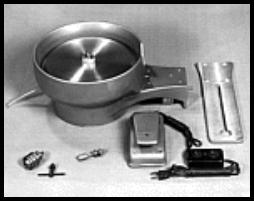 LAMINATED COPPER LAP
Also available in lead
Grooved for cutting oval star stones. Has
3/16" deep grooves, one 1/3" wide and one
3/4" wide. Bored to fit 1/2" shaft.

BASIC UNIT
Includes motor and
foot control
QSU
DELUXE SELECTRA-MATIC UNIT
QSDC
Accessories include:
1/4" Super Chuck
1/4" Work Arbor
Facet Head Adapter Plate
We invite you to compare and see if any other small lapping unit can add up
the following advantages for a grand total of efficient performance to the user:
1.
One piece high strength aluminum casting.
2.
AC DC double shafted motor (motor shaft
opposite drive shaft is employed for small carving
and buffing implements.)
3.
Choice of two variable electric speed
controlled units. Standard unit: Foot control.
Deluxe Unit: Selectra-Matic dial control.
4.
Silent friction drive (no belts or pulleys.)
5.
Six or eight inch lap capacity.
6.
Adaptable to most facet heads (see
accessories). Splash bowl of unit has cutout for
allowing dop arm of facet head to be lowered into
girdle cutting position on lap plate.
7.
:Lap arbor runs with rigid moisture sealed
ball bearings. Arbor size: 1/2" 20 thread.
8.
Compact and portable.
TOTAL: QUALITY ENGINEERING AND DESIGN
Shipping Weight 15#
Quality, versatility and compact advance design you won't find in any other small lapping unit.
CUP SET
For cutting and polishing round star stones. Set
consists of one cup holder and three
interchangeable copper inserts. Holder fits 1/2"
shaft, 20 RH or 24 RH thread. Inserts are
available in three sizes. Small 1/2" dap, medium
3/4" dap, and large 1" dap. Specify thread size of
holder. Inserts also available in lead.
WORK ARBOR
Can be used with cup sets or grooved laps. Fits
standard and 1/2" motor shaft, 24 RH thread.
Send mail to
webmaster
with questions or comments about this web site. Copyright © 2006-2020 Poly-Metric Instruments, Inc. All Prices Subject To Change Without Notice.